What's new in Sage 300 2020
Sage 300 classic screens improvements
This release includes the following new features and improvements in Sage 300 classic screens:
Improved help. We've updated Sage 300 help to make it easier for you to find important information and instructions:
Search results are more relevant and include topic excerpts to help you find what you're looking for. Also, you can now use internet search engines to find information in the help.
Help topics are more readable, and the help has a fresh, modern look and feel.
You can view the new help in a browser on any device with internet access, even if you don't have Sage 300 open
See web screens users on the Current Users screen. You can now see who is signed in to web screens.
Forcibly sign out users who are signed into web screens. On the Current Users screen, the Administrator user can now forcibly sign out users who are signed into web screens
Multiple contacts for customers and vendors. You can now set up multiple contacts for customers (including national accounts) and vendors. For each customer and vendor, you can then set up Sage 300 to email A/P, A/R, O/E, and P/O documents to some or all of the contacts for the customer or vendor. If you have integrated Sage 300 with Microsoft Office 365 or with Sage CRM, the new contacts are supported in the Sage Contact app for Outlook 365 and in Sage CRM.
Open Common Services > Multiple Contacts > Contacts.
Use online bank feeds to reconcile bank accounts. Bank feeds make it fast and easy to get transactions from your bank, and they're supported by most major banks. The Reconcile OFX Statements screen is now the Reconcile E-Statements screen. You can use this screen to get electronic statements in either OFX format or from bank feeds
General Ledger integration with Tax Services. Integrating General Ledger and Tax Services allows you to enter tax amounts in G/L journal entries. The tax amounts are posted to Tax Services so they appear in the Tax Tracking report.
You can also include Tax in the following G/L reports:
◦ G/L Batch Listing report
◦ G/L Posting Journals report

See screenshot of entry screen below for the Tax information added to the entry.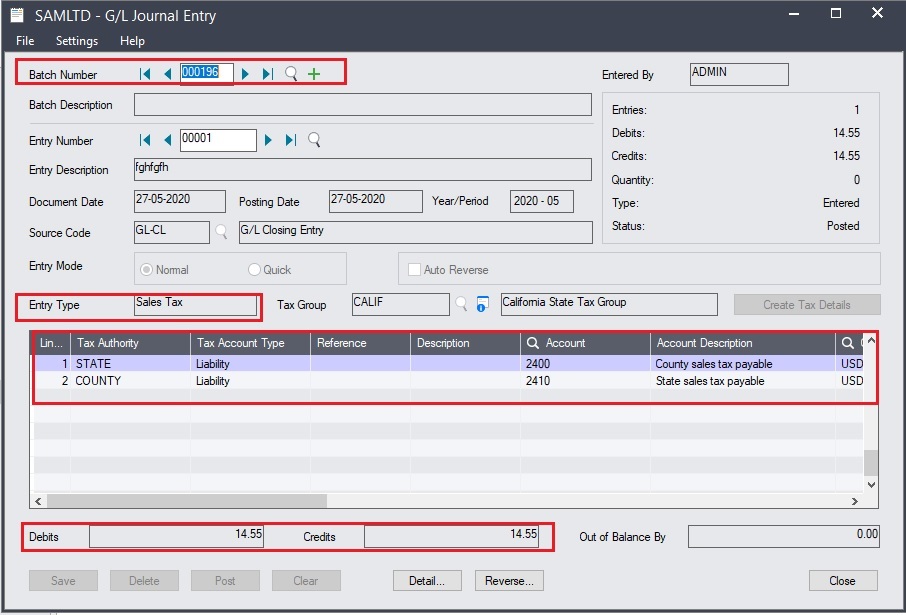 CRM Integration improvements
When you create or change an order entry transaction that is linked to a CRM opportunity, a corresponding communication record is automatically created in Sage CRM. This feature works whether you create or change the transaction in Sage 300 or Sage CRM.
Most of the fields on the Company Summary page in Sage CRM are now synchronized with Sage 300. (Previously, a smaller number of these fields were synchronized.)
Sage 300cloud web screens improvements
This product update includes the following new features and improvements in Sage 300cloud web screens:
New look. We've updated the visual appearance of Sage 300cloud web screens so information is clearer and more accessible, making the system easier to use for experienced users, and faster to learn for new users.
Company colors. If you use Sage 300 to manage multiple companies, you can assign a unique color to each company to make it easier to see which company's information you are viewing and avoid data entry errors. Previously, company colors appeared only in classic screens. Now they also appear in web screens, at the top of the Sage 300cloud home page and screens.
You set up company colors using Sage 300 Database Setup. For more information, see Assigning Company Colors.
Enter long comments for order details. For order details on the O/E Order Entry screen, you now enter information in the Comments/Instructions field in a box instead of a table. This allows you to enter long comments without splitting them into multiple rows in a table.
Specify BOM numbers on order details. On the O/E Order Entry screen, when entering an order detail for a Bill of Material (BOM), you can now specify a BOM number in the Kit/BOM field.
Sage 300cloud web screens improvements
This release includes the option to install Sage 300cloud web screens: modernized versions of Sage 300 screens that you can use in a web browser. Web screens run in parallel with the classic Sage 300 desktop screens, so there's no need to choose between desktop or web. Everyone in your organization can use the interface that best suits their needs, while working seamlessly with a single shared set of company data.
Run Sage 300cloud in Multiple Browser Tabs. You can now run Sage 300cloud in multiple browser tabs or windows at the same time.
[vc_separator type="transparent" thickness="20″]
[button target="_self" hover_type="default" text="Contact Us" link="http://aptusbusiness.com.au/contact/"]